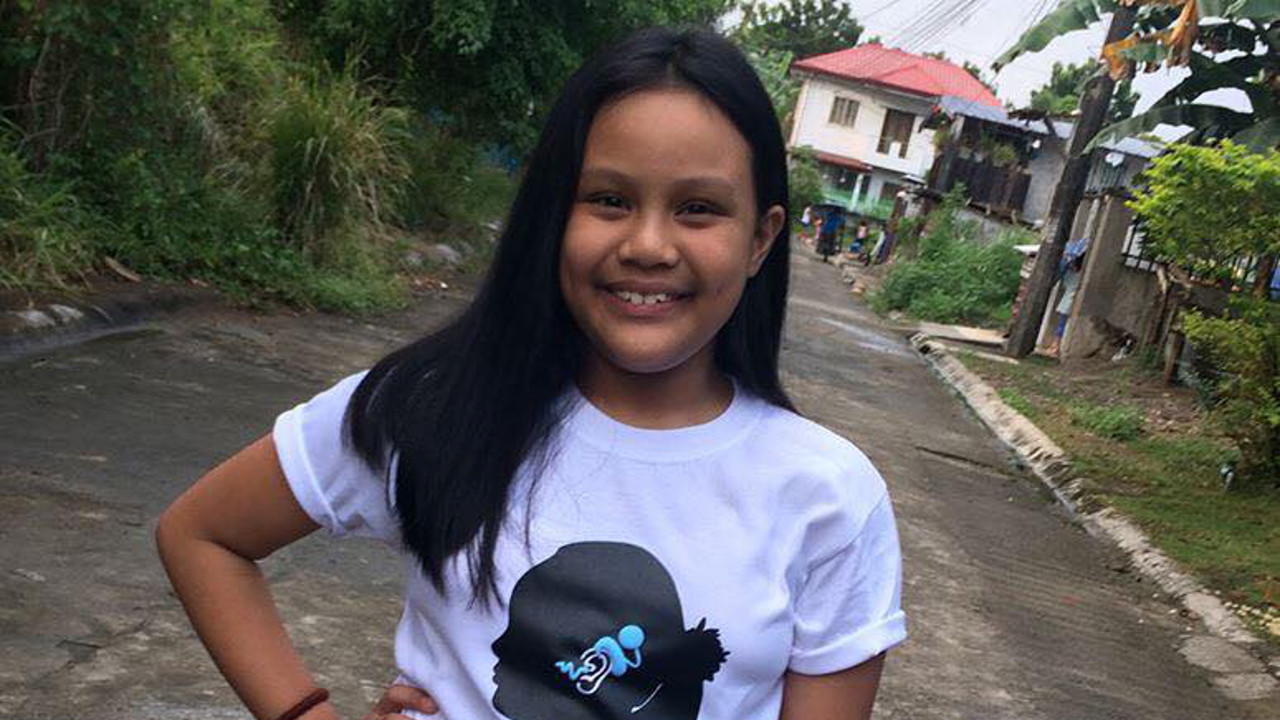 Mommy Eileen and her daughter Yanna are raising funds for Yanna's cochlear implant. We invite you to know their story and help young Yanna get better hearing. They have been selling shirts and cupcakes and soon, will be launching more fundraising events for Yanna, and we here at Project Ephphatha are behind them all the way.
My 9 year old daughter Yanna, loves dressing up, cooking, helping with house chores, studying, and playing just like any regular 9 year old. If you didn't know her you'd be amazed with her charms and wit. As a mother, who knows her too well, I am more amazed as she is part of her class's academic awardees. This is despite her having speech delay due to hearing impairment.

She was born with Bilateral Mondini Dysplasia. Basically, her inner ears did not form well when I was conceiving her so she was born with residual hearing on both ears. She started wearing hearing aids when she was 3 years old. Last December 2, she can no longer hear on her left ear even with hearing aids on. There is nothing we wouldn't do to give her a happy and normal, as normal can get, childhood.

Though people know me as timid, with the support of our family and friends, we created this page to create awareness and knock on your hearts, for whatever support you can extend. We need to raise 1.5 Million Pesos for Yanna's Cochlear Implant for her left ear. Apart from the surgery itself, there will be costs post op and maintenance. Despite having stable income, our earnings will simply not suffice.

We are targeting to have her operation last week of March or early April 2018, just in time for her 10th birthday.
We will forever be grateful for the help you can extend. We welcome any form of support for Yanna whether in sponsorships, donation, or collaboration.

We also have a few fundraising projects lined up (ie. Movie screenings, items for sale, raffle, etc) please do join us! Send us a message if you wish to engage. Details will be released once available.

If you would like to donate now, we thank you and in return we can only pray that God bless you abundantly. You may deposit in any of our bank accounts below.

Yoanna Ghislaine R. Honrado
Metrobank Savings Account 402-3-402-40928-3
Swift Code: MBTCPHMM
BDO Savings Account 006630247530
Swift Code: BNORPHMM

Eileen Honrado
BPI Family Savings Account 6436327704
Swift Code: BOPIPHMM

For deposits coming from outside the Philippines, here's our Paypal link:
Paypal.Me/yannahonrado

You can also help us by spreading the word. We sincerely appreciate if you would LIKE and SHARE this page not just to appeal for help but for awareness as well.

Always, thank you! May God bless you beyond measure!
- Mommy Eileen